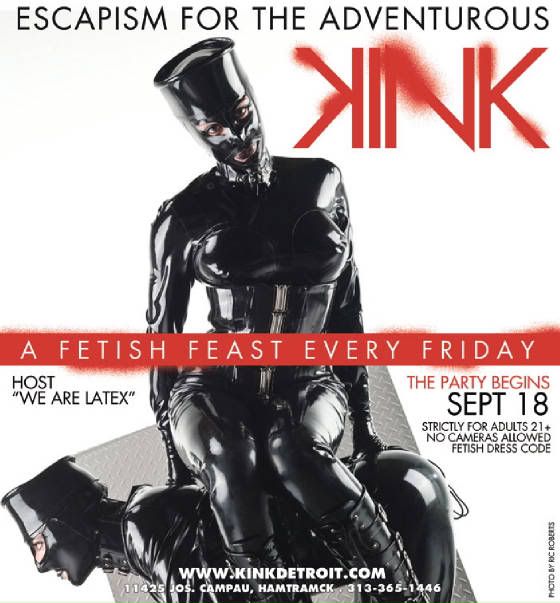 Kink continues to create a strong buzz and has many MANY people talking.
Detroit's only weekly Fetish night takes place every Friday at the Shadow Bar in Hamtramck, Michigan.
Address:
11425 Jos. Campau
Hamtramck, MI
What Kink offers:
10,000 SQUARE FEET ON 2 LEVELS!!!
HUGE main floor dance area. Large bar.
2nd floor lounge with couches and upstairs bar.
State of the art sound system that BANGS!
High-tech elaborate lighting system
Friendly bartenders who cater to your pallete
Clean and safe environment (Bathroom attendants and security)
Valet parking
Accomplished and Progressive DJ
Fetish play area for those interested
KINK - A NIGHTCLUB ENVIRONMENT AND NIGHT THAT NOBODY ELSE CAN EVEN COME CLOSE TO! Most upscale clubs don't open their doors to the industrial and goth community but Shadow Bar welcomes you to it's multi-level high-tech environment. Shadow offers inviting modern design with state-of-the-art sound and lighting systems coupled with video projections and multiple bars taking you well beyond the standards of your normal Detroit/Ann Arbor nightclubs.

Dress to impress. Kink encourages fetish wear but the dress code is NOT strictly enforced. Rivethead, cyber, goth, clean, stylish, fun, clubby, rockstar, pornstar, popstar, moviestar… ALL are welcome!!!
Hours:
10pm -2am (head over to City Club afterwards!!!)
21+ Welcome
Ladies FREE before 11pm
Break out of your old habits and make Kink your Friday night clubbing destination!
For more info:
http:// www.kinkdetroit.com